Big data has been very important in the creative and entertainment sectors. Many artists are using big data to improve the quality of their work. Screenwriters are no exception.
We mentioned in the past that big data has been very valuable for Hollywood. Professionals throughout the industry are looking for ways to integrate big data into their jobs.
A growing number of screenwriters are discovering the wonders of big data. Fast Company wrote about this back in 2013 when they said that Big Data is Rewriting Hollywood Scripts.
"Improved data collection and management through surveys, feedback, HR databases, and bias-interrupter and bias-decoder tools are essential in gaining nuanced inclusion insights and thus fostering organization-wide DE&I when insights are fed back into the organization in an actionable way," writes Fast Company author Mark Wilson.
Screenwriters can't bring to life their scripts on-screen without producers. In a world where it's hard to find directors, producers, and workforce to create a film, screenwriters need something ample to sell their concept. This can be where big data comes in.
There are no shortcuts to selling your pilot script, as well as pitching a TV show during in-person meetings. You need to step up your presentation by using these investor pitch deck examples! This is the most powerful tool you can use to convince producers to invest in your pilot episode. Tools like this use complex data-driven algorithms to come up with the best deck examples for aspiring screenwriters.
If you can write your ideas and script on a piece of paper, then you can use big data and AI technology to create visuals for the presentation. What you need is a solid case to support your vision, and you can put it together with the help of a presentation deck. You can also use data analytics and AI to assess how various pitch decks are likely to find those that are likely to perform the best.
Let's assume it's your first time building a pitch deck from online software, and you're not sure what design to incorporate in your presentation. But don't sweat it. We can help you get that collaboration you want from prospective producers, directors, and actors in no time. All you have to do is continue reading!
How Do You Make a Pitch Deck with Data Analytics Tools?
Without a doubt, you already know what your project or TV show is going to be about. However, you are torn between multiple data-driven software applications on the internet available for building a killer deck. For a fully interactive tool, Venngage is an excellent place to start.
In our online deck maker, certain factors need to go into your deck. You should make sure that you include these factors in every slide chronologically. If you reconsider, it may be a lose-lose situation for you and your audience. Data analytics tools can make this a lot easier, but you have to deploy them correctly. They will help understand the timeframe of various situations and make sure they are arranged in chronological order.
A successful pitch deck should leave your potential producers and directors feeling like they know what exactly your TV show will feel like. And it's your job to pull off a convincing presentation. Though we will leave the task of editing to you, taking a look at these tv show pitch deck examples will help you achieve a good collaboration.
Let's dive into the film pitch deck examples that were developed with big data technology and specifics of what your TV show should look like.
Title Page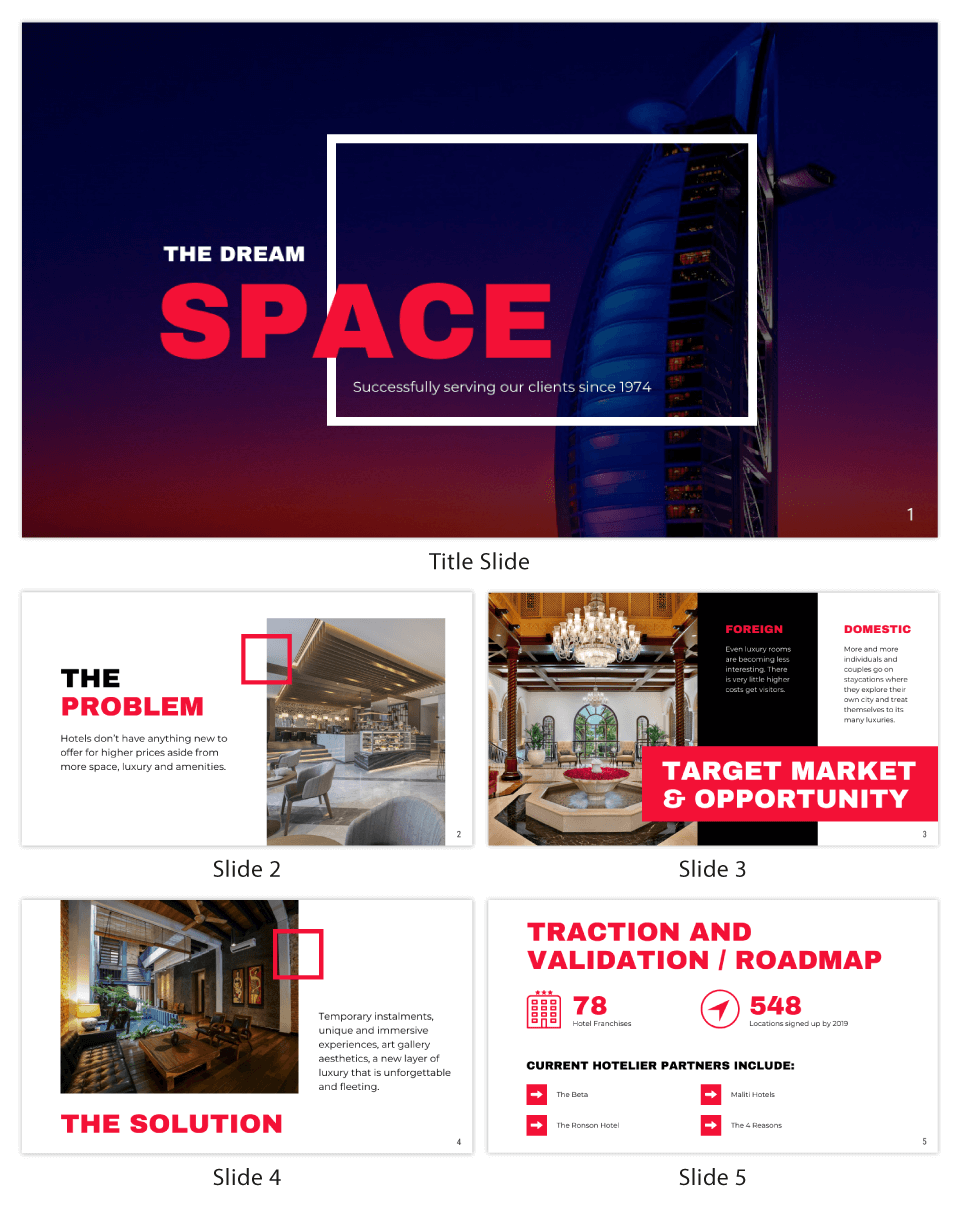 Venngage
First of all, an appealing pitch deck needs a killer opening page. Undoubtedly, this is the first thing your audience will see, which could compel them to keep listening to your idea. Your title page should include a resemblance of the screenplay and the name of your TV show. And since the text and image are the only things of substance on the first slide, picking the right font and picture is hugely significant.
You can use data-driven design tools that leverage AI technology to help create your opening page. This will help make sure that it makes the best possible impression.
Like the example above, the pitch deck title page only includes a few texts and a compelling image.
The Screenplay
Once you get past the title page, the next task is to summarize the elements included in the screenplay. Of course, you already know what these would be: treatment, character breakdown, pilot script, logline, and show bible.
While you cannot show all the details and nuances of your script in these slides, you should offer your audiences a clean overview of the film. However, you must keep in mind not to include too much text. They might get lost in a wall of words or dialogue. The best way to keep the following pages engaging is to keep them short and precise. In other words, brief and impactful synopsis and theme decks.
Here are more ideas for what your screenplay deck should look like.

Venngage
As you can see in the example template above, the pitch deck also shows consistency with its theme and text throughout the entire presentation. When using data analytics tools to pick a theme for the slides, ask yourself a few questions: What is your TV show trying to say? What is the mood or tone of the series?
If you've found the questions to your answers, find a template from the website that matches your TV show's mood. From there, you can communicate your style and vision for your series in an impactful manner.
About/Team
For the last few pages of your deck, let your audience know who will be on board for this project. Take note: these pages should not be very long. Include a general overview of the crew. You can also write a brief blurb about your co-scriptwriters and other people who already signed up for this project.
Below are the examples you can utilize when presenting your team: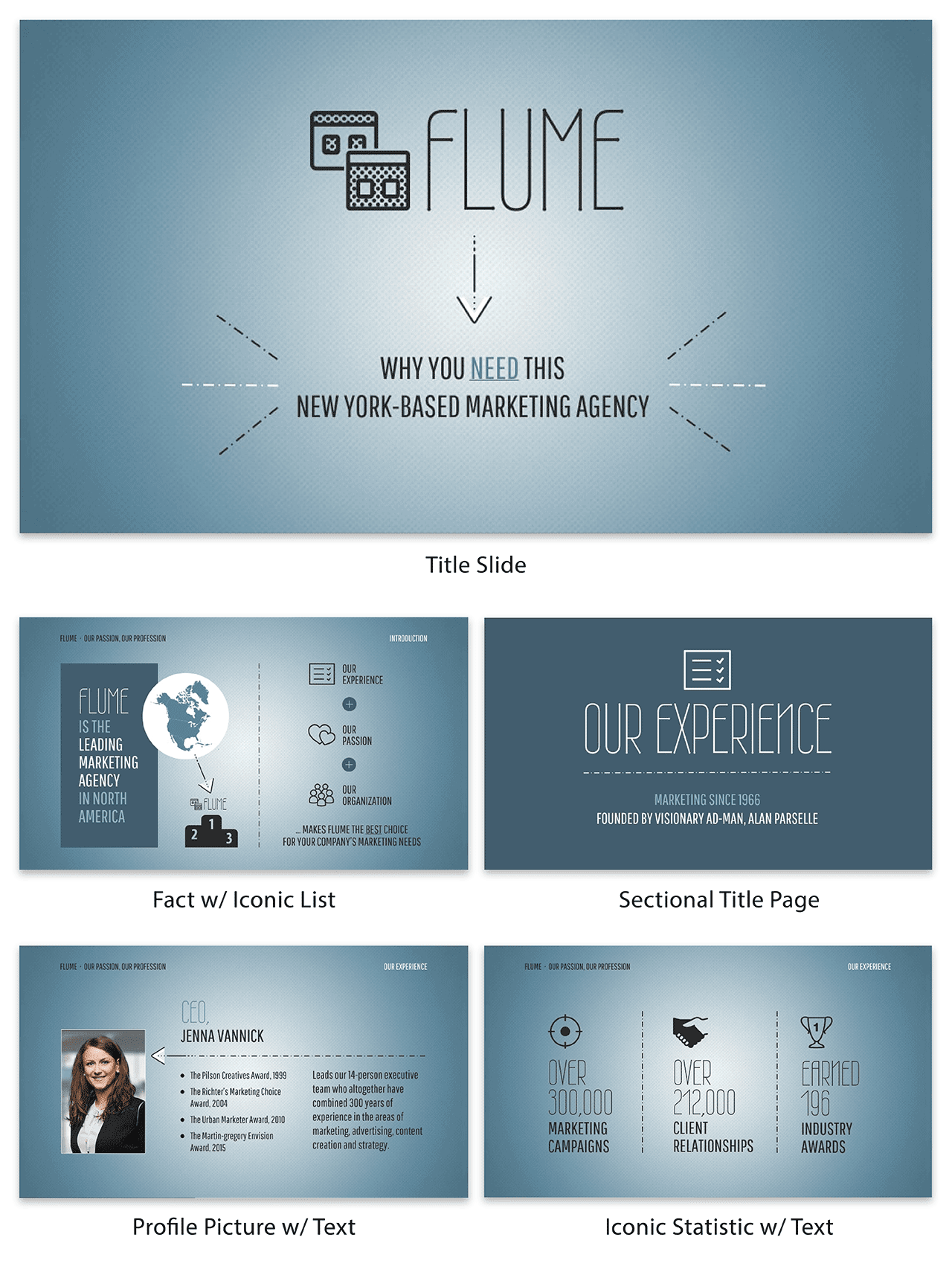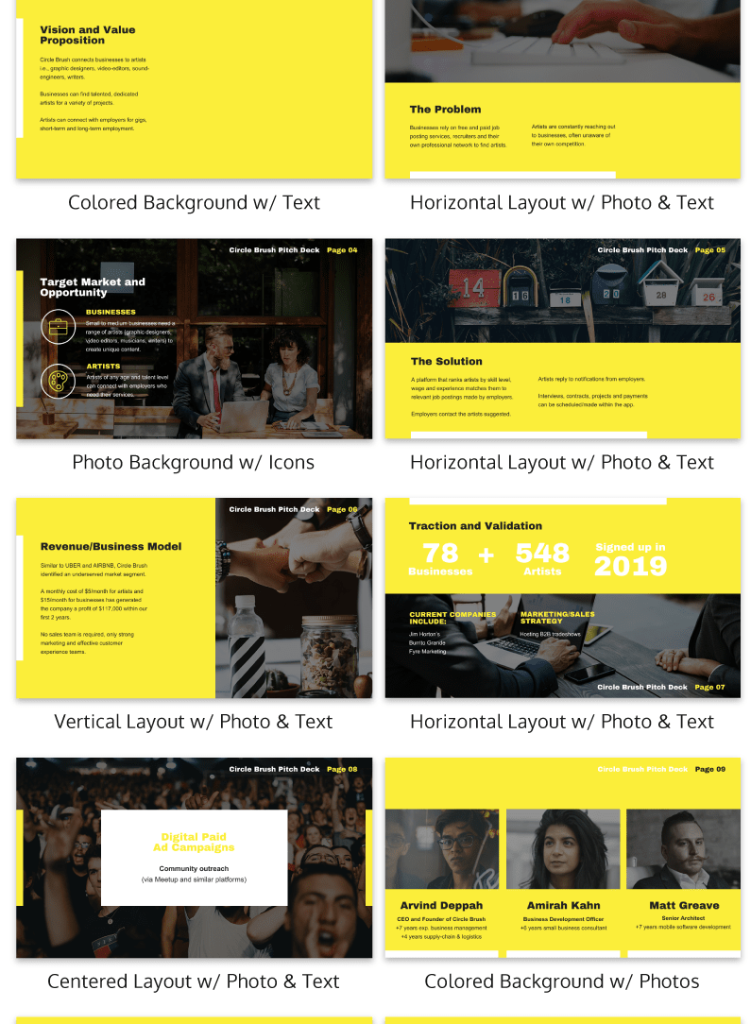 Venngage
The people to whom you are pitching your TV show do not only have to like your concept — they have to like you, too. So let them know you have come prepared and are great to work with by showing them a professionally made TV show pitch deck.
It's always about how you sell your remarkable project to them. Work with every resource available on the website to make the next big TV show happen. There is a large database that can help you find what you are looking for.
Big Data is Ideal for Creating the Best Pitch Decks for Screenwriters
Netflix isn't the only entertainment company to use big data. Many screenwriters are using big data as well. There are a lot of great pitch decks that you can use to be a more successful screenwriter. You need to know how to utilize big data technology to leverage them properly.
The post Data-Driven Pitch Deck Examples for Inspiring the Next Big Screenwriter appeared first on SmartData Collective.