Big data technology is incredibly important in modern business. One of the most important applications of big data is with building relationships with customers.
Every enterprise wants to improve its business relationship and productivity. Therefore, CRM software comes into the picture to help enterprises achieve their business targets. These software tools rely on sophisticated big data algorithms and allow companies to boost their sales, business productivity and customer retention.
Today, 3 out of 5 companies use CRM software to streamline their business processes and increase revenues. According to market research – The global CRM market size was estimated at USD 43.7 billion in 2020 and is expected to reach USD 47.6 billion in 2021.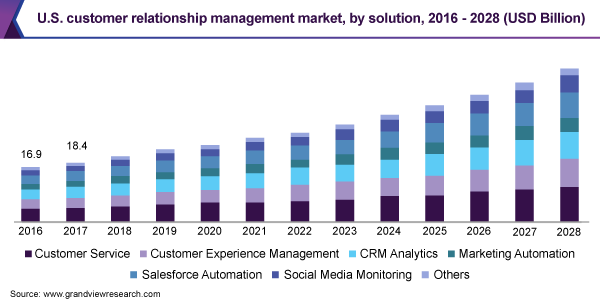 Sounds great, right?
The current market is overpacked with several CRMs; hence, selecting the best CRM for business operations has become challenging for organizations.
However, there are many CRMs in the online market, but nothing can beat Salesforce.
Salesforce is a top-rated CRM (customer relationship management) software supporting businesses in running various operations smoothly. Whether it is closing more sales deals, getting leads, offering vital customer services, marketing automation, analytics or application development, Salesforce CRM provides a bucket of comprehensive solutions. It has solutions that help organizations teams to work and manage business operations efficiently from anywhere in the world.
Today, Salesforce has become a monopoly player in the CRM applications market that holds 19.8% of the total market share. This software has helped more than 150,000 customers worldwide to take their business to the next level.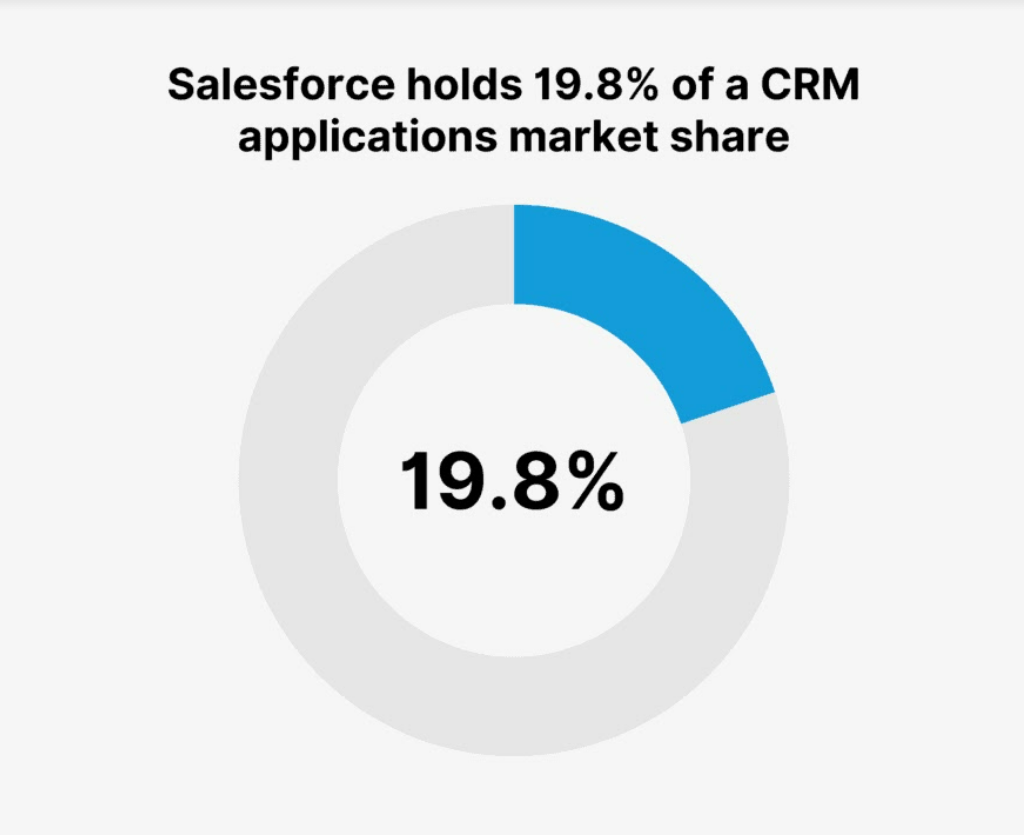 Salesforce is in demand worldwide because no matter what size of your business, it will always have a perfect solution for you. To get the best benefits from this CRM software, you need to integrate it into your business system. But Salesforce is a vast platform to explore; it comes with several solutions and hundreds of applications. So, how do you know which one to use that will perfectly fit your business requirements?
To help you out, we have come up with this post defining the top salesforce tools that you can use for Salesforce Integration services in your business system. These tools will help your sales professionals to work efficiently and help you with the growing revenues.
Top Big Data CRM Integration Tools in 2021:
#1 MuleSoft: Mulesoft is a data integration platform owned by Salesforce to accelerate digital customer transformations. This tool is designed to connect various data sources, enterprise applications and perform analytics and ETL processes. It is one of the powerful big data integration tools which marketing professionals use. This next-generation integration platform offers the scalability and agility required by businesses. It helps professionals transfer and map the data quickly and build integration in a markup language (XML) or graphically.
#2 AeroLeads: Another robust integration tool that helps you find the potential customers' contact numbers and email addresses from different professional platforms like LinkedIn, CrunchBase and Xing. This tool helps build the email list in real-time; it comes with an in-built email verifier, allowing professionals to verify the emails before sending them to prospects. This prospect generation software helps businesses to tap customers on a large scale and get qualified leads efficiently.
#3 Dell Boomi: Boomi is one of the innovative integration toolsthat connects native applications like Sales cloud, service cloud with other cloud or on-premise applications. This ETL integration software allows you to build integrations anytime and anywhere without requiring any coding. Dell Boomi helps businesses automates manual data management tasks, ensuring more accurate data with quick business workflows. It also supports connecting Salesforce with other critical business applications for enterprise management, finance, human resources, operations and logistics. It is one of the best big data integration tools that help you to accelerate your business outcomes.
#4 Quip: In the world of CRM, Quip is a collaboration tool that comes with an in-built office suite. As a standalone product, this software helps professionals with rich sets of spreadsheets, charts and documents. Quip integration tool will allow teams to improve collaborations, export and import live data, enhanced visibility and outstanding device support. It will also let them work anytime, anywhere that helps in enhancing productivity and bring maximum value to the business.
#5 MailChimp: MailChimp is another popular integration toolthat helps organizations start building email campaigns from the leads and contacts available in your CRM. This tool comes with highly detailed analytics that allows professionals to understand their leads records easily. The sales and marketing professional can easily integrate MailChimp with Salesforce. They only require to install the integration in their account to sync the data with MailChimp. Once the integration is done successfully, they can easily pass the sales leads and contact MailChimp and categorize them with specific email content.
#6 Ebsta: Ebsta is one of the leading integration toolsthat help to predict sales growth with revenue intelligence. This tool helps professionals collect real-time pipeline trends, sales engagement, and historical performance that help sales leaders revolutionize forecasting by predicting the sales revenue efficiently. Moreover, it offers more accurate insights, which allows you to improve the productivity and performance of your sales team.
#7 Conga Composer: Conga composer is an effective integration toolthat helps you manage and update the data. It simplifies the document generation and reporting solutions that enable professionals to understand the data more accurately. This tool is highly compatible with Salesforce Sales Cloud, Service Cloud and Lightning and offers multiple benefits, including easy automation, easier creation of documents, and distribution of files and documents.
#8 RapidiOnline: RapidiOnline is a robust and scalable integration toolthat helps organizations to integrate and replicate their data seamlessly. This tool allows you to synchronize your complete data efficiently, automate cross-system processes and store & display the most insightful ERP data in the Salesforce System. It eliminates the requirements of manual sharing of data, which results in getting more accuracy, flexibility and informative insights.
#9 GetFeedback: Getting real-time feedback from customers helps businesses improve their working efficiencies and productivity. GetFeedback in integration will help you receive immediate chat feedback, which will help your support team to enhance your customer services significantly. This tool enables branded surveys which help your customer support team to get real-time chat feedback. The feedback will lead you to actionable insights and boost productivity.
#10 Panoply: In the world of CRM technology, Panoply is a data warehouse build that automates data collection, query optimization and storage management. This tool will help you to sync and store data from multiple sources quickly. With this tool, data transfer is faster and dynamic. Moreover, it allows you to explore the data in SQL and view it in any analytics tool efficiently. Be it accounts, cases, contracts, campaigns, events, leads, custom objects or other objects; you can sync complete Salesforce data with Panoply swiftly.
Final Words:
So, here are a few best integration tools in 2021 that can help you integrate Salesforce with your current business processes. Still, Salesforce has a lot more to offer, but it depends upon your business requirements that which solution will be beneficial for your business. So, it's time for you to choose relevant tools for your business and bring more value to it.
For more help, you can connect with top-notch consultants; they will help you with the best solutions. Also, if you are using any tools currently available, feel free to share your experience with us. We'd love to hear from you.
The post Top 10 Big Data CRM Tools To Increase Business Sales appeared first on SmartData Collective.